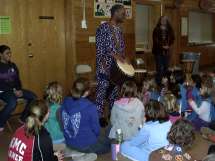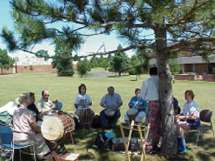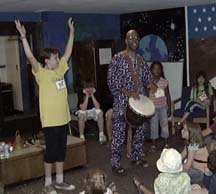 You did a great job for us the evening you provided instruction to us on drumming. This activity provided the needed ingredient to help bring the chemistry of that team together.
Ron Olson
Worldwide Research and Development Mgr.
Cargill Crop Nutrition, Inc.
"Kenne, your enthusiasm is so infectious! The ' big kids' really loved playing along, too."
JoAnn B.
Hiroshima/Nagasaki Remembrance Committee, Mpls. Mn.
TOP
The Drum Circle is for participants to interact and play at their own pace. All ages may take part. Rhythms are performed as exampled in Kenne's book, "Drum Circle Cookbook", according to a persons ability. Success is measured by everyone participating and doing their best.
Young children are entertained and rhythmically energized with Kids Rhythms and Youth Beat programs where Kenne uses pieces and activities from his book "RhythmiKidz", to teach kids about rhythm and culture through collaborative drumming.
Authentic indigenous rhythms are performed in the oral tradition. Songs and rhythm games are played giving everyone a dynamic part.
Physically challenged participants are encouraged to play and share their ideas.
Bara Bushi is a sample of a piece from Drum Circle Cookbook performed in group activities.
TOP
Corporate annual meetings, seminars and convention sessions facilitated for group cohesive interaction through rhythm.
Develop cooperation and togetherness within your office or staff through fun rhythm activites. Inventive and creative skills you never knew you had can be brought to light with drums and common items.
TOP
A rtist R esidence
A.I.R. (Artist In Residence)

Residencies are offered to schools and institutions for coordinated curriculum, theme, and social skill focus programs. Self esteem and social inclusion are focused on at retreat seminars, camps and youth gatherings.

Educational workshops, seminars, and classes are available to institutions and organizations.
For Workshop plannning and information, teachers, event planners, and coordinators may visit the Workshops page for further information to consider arranging a visit.
Click here to view the brochure web page. (Printable). Click here to download a PDF (872 KB) version.


(Adobe Reader necessary)

Click here for scholastic and organization pricing.

Click here for the online Event Planner Form.
TOP
Click here Drum Lessons and Classes info
Arabic, Middle Eastern: Dumbek / Riqq / Zills
African: Jembe / Doun douns / Bala
Latin: Congas / Timbales / Bongos
Asian: Taiko / Dragon Drumming / Changgo
Group lessons
Private: (Single)(Package-4/8)
Classes: Evenings and Saturdays
Seminars, Dance, and Circles by arrangement*.
*(Provide date(s),time, location, and participant information.)
Lesson focus: Hand independence, Instrument technique, Dance accompaniment,
Percussion Ensemble, Recital and Drum Circle preparation.
Percussion Instrument Repair and Tune-Up available.
Click here to view the brochure web page. (Printable).

Click here for scholastic and organization pricing.

Click here for the online Event Planner Form.

Click the question mark to go to the Drums From A Small Planet online quiz pages.
TOP
Drums From A Small Planet Programs
Roseville, Minnesota 55113-4562
ph. 651.494.9309
email: contact@mninter.net

---
---
All Rights Reserved, Copyright © 2013
Alternative Designs co.
Custom Web Site Development