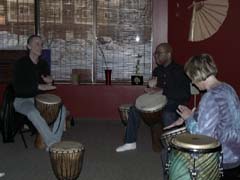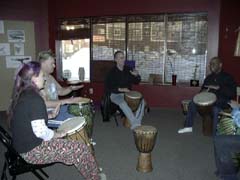 Kenne Thomas teaches West African, Middle Eastern, Latin, Asian Percussion instrument peformance technique and rhythms. Scheduled Drum Set lessons are available for the modern drummer.
An experienced performer, teacher and author, with 30 years of percussion performance and teaching experience Kenne teaches a wide variety of percussion instruments at his studio in Minnesota: Jembe, Dun duns, Dumbek, Zills, Daff, Riqq, Conga, Bongos, Clave and Shekere rhythms, Bodhran, Santoor and more. Well grounded in drum set performance technique Kenne guides aspiring drummers in the mechanics of drum set artistry.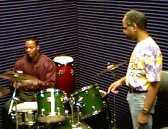 Community Group Drumming Classes are held regularly.
Hand drum clinics are held at music stores and schools. His "Drums From A Small Planet" programs and workshops enrich students understanding of our world's cultures at schools, community centers and institutions. At Risk and troubled youth programs are an integral component of the activities Kenne espouses.
Nurturing young players is an effort Kenne has an intuitive focus on. His children's book "RhythmiKidz" hs been well received. It is a fun manual on rhythmic study for elementary kids with patterns and activities to enrich young players performance skills and appreciation of drumming.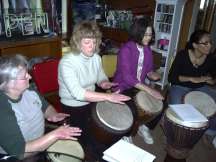 Kenne conducts weekly group drumming classes as well as private lessons. He is the author of many instruction, technique and rhythm books including the widely used teacher, music therapist and facilitator's manual, "Drum Circle Cookbook", his newest books on Middle Eastern rhythms "ANTHOLOGIA" a comprehensive guide on Dumbek, Zills and Riqq for ensemble and belly dance, "Dumbek Dance" for the dedicated dumbek player (ANTHOLOGIA Vol. one), and "ZILLIA" a book on dance rhythms focusing on zills and riqq (ANTHOLOGIA Vol. two). Also the hand drum group rhythms book "Drum Circles" focusing on melodic drumming.

Kenne's other popular learning books are the Caribbean rhythms books, "Conga Drum Fever" and "Mil Veces Merengue", and the technique books "Hand Drumming Independence", "Hand Drumming Excursions" and "Jembe Gems". In lessons and classes you can learn how to play the fun jembe rhythms heard in the popular movie, "The Visitor" (Anchor Bay Entertainment 2008). Drum Straps, for holding your drum while standing are now available for drummers. Visit the Accessories page to see them.
Drum Set and
World Percussion Lessons
For information
email: Kenne Thomas
Phone: 651.494.9309

Drum Set Instruction


Hand Drumming and
World Percussion instruction-
Evenings and Saturdays


Lessons for:

Master Classes and Teacher Workshops available