This was definitely a memorable part of our trip! Thank you so much!
Menucha Baila Matusof
Lubavitch H.S. (Chgo, IL.)
Thanks so much. You and your friends were amazing and it was obvious everyone, especially the toddlers, were having a wonderful time. The setting was so beautiful and you were a gift!
Ede Holmen
Friends of Loring Park Organization Mpls., MN
Drum Circle
The Drum Circle is for participants to interact and play at their own pace. All ages may take part. Rhythms are performed as exampled in Kenne's book, "Drum Circle Cookbook", according to a persons ability. Group rhythm patterns, from the book "Drum Circles" have everyone interplay with melodic, syncopated cultural and ethnic rhythms. Success is measured by everyone participating and doing their best.
Young children find a place in the drum circle with age specific rhythmic drumming. Kenne uses pieces and activities from his book "RhythmiKidz", to teach kids about rhythm and culture through collaborative drumming.
Authentic indigenous rhythms are performed in the oral tradition. Songs and rhythm games are played giving everyone a dynamic part.
Physically challenged participants are encouraged to play and share their ideas.
Bara Bushi

is a sample of a piece from Drum Circle Cookbook performed in group activities.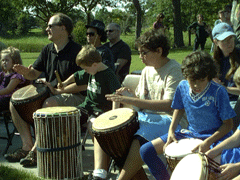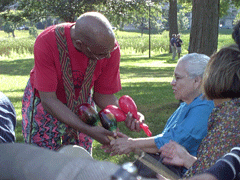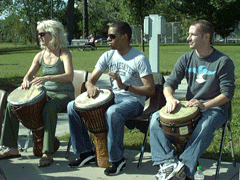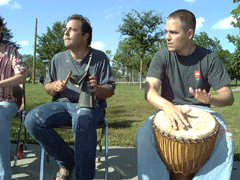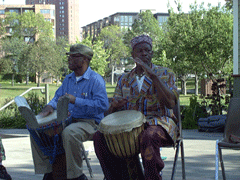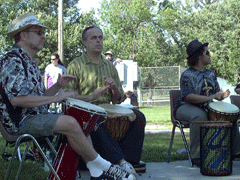 Click here to view the brochure web page. (Printable).

Click here for program pricing.

Click here for the Online Event Planner Form.
TOP
DRUM CIRCLES at
Drums From A Small Planet
Roseville, Minnesota 55113-4562
ph. 651.494.9309
email: contact@mninter.net
---
All Rights Reserved, Copyright © 2013
Alternative Designs co.
Custom Web Site Development