Now available are custom made cloth straps for supporting your drum while you stand, march or move around in a drum circle or your drumming group or class. The strap can also be used for supporting and controlling your drum as a waist belt when you are sitting in a drum circle, class or lesson. This is especially useful for elders, youth or special interest groups.

Hand drums played while standing allow you to be active and engage in rhythmic activities with others around your area. Carrying a drum with a strap also gives you excellent, therapeutic back support. Many people say they feel better physically after playing a drum using a strap, while standing. The strap gives you padded support on your shoulders and allows freedom of movement of your arms and waist. Commercial straps and harnesses on the market are available that do not have the comfort of padding. Many are made of woven, synthetic materials that often cut into the shoulder blades and have a rigid plastic or leatherette piece in the back, or front to hold the strap and drum in place. This can be uncomfortable. You can play with ease and comfort with a good, padded cloth strap.

Our straps are 15' (4.75 m.) long and 2 1/2" (6.35 cm.) wide, with strong stitching. They come in soft patterned colors to perfectly complement the wooden hue of your drum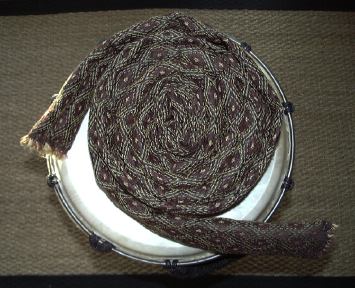 and are constructed of sturdy, non-stretch cloth fabric material with 2' (60.9 cm.) of foam padding at the shoulder and collarbone area. The length of foam padding allows for different stature people to be able to have ample enough padding appropriate for her or his height. There are no clips, clasps or snap-locks to handle. Those metal attachments often cut into the drum's tension rope. Just tie the adjustable strap through a drum's handle, or lace it through the drum's rope; safely holding it in place while you play.
The straps are locally made by a craftsman in Minnesota. Instructions for attaching the strap and how to wear it are included with each purchase. Straps are $30.00, shipping included. You may use the Order Form. to request a strap. Or, email, or call to inquire.